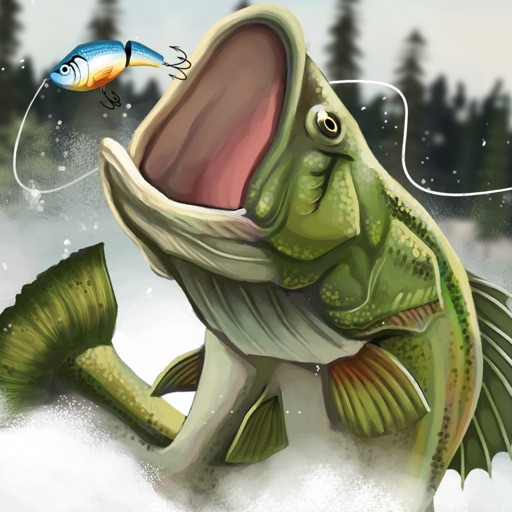 If you love to fish but generally prefer to not get up super early in the morning to trudge through bug infested swamps, get your hands wet, or slather your forearms in fish guts, then Rapala Fishing: Daily Catch might be the game for you. Rapala's Daily Catch offers all the skill, excitement, and suspense of real world fish for those times when you can't leave your couch, home, or office.
Stunning 3D graphics make Rapala a real joy to play, with beautiful lake locations that just might inspire you to lean back and simply relax like you would out on the lake but without the deadly bugs, the ever present danger of drowning, or painful sunburns. Work your way through North America's premier fishing holes as you visit real-world locations rendered with exquisite attention to detail (according to people who have actually been to said locations). The fish themselves also look so realistic that you are likely to experience the actual rush of reeling in the big one (without all the fish goop, as previously noted) as well as the crushing sense of defeat after letting the championship winning bass get off your hook.
Thankfully Rapala Fishing is not just a simple tap and reel game but instead rewards the right combination of tackle, retrieval motion, and lake locations, making success depend on a combination of strategy and skill. Your results will improve as learn how to use the different lures and catch bigger fish in the process with the simple and intuitive controls, meaning you will experience more of the rush and less of the disappointment the more you play. Then you can experience that warm fuzzy feeling of a day well spent when sell your catch to take home bigger and bigger rewards, all the while avoiding any unpleasant fishy smell. Unless of course you were hanging out at fish market or a lake, which is totally up to you.
The game also includes brilliantly detailed genuine and authentic Rapala lures, which may appeal more to some fishing enthusiasts than others, but regardless of your relative knowledge and appreciation for esoteric lure trivia, they look pretty cool. You will have to use them well, however, as the fish AI is very realistic, quite accurately mimicking how our scaly little fish friends evade hooks and break lines. You can also compete with countless other fishing fanatics in daily tournaments and show off your most impressive catches with the world, making strangers you've never met envious of your ninja-like fishing prowess.
The only real drawback to the game is the requirement to buy fishing licenses daily. Some players may not mind this as it means you get to play as long as you want on any particular day that you buy a license, but others don't like that the license is good for only one day. Given the opportunities to earn rewards, however, this may be a minor issue. Either way, it's free to check out, so you won't risk anything but a few minutes you were trying to kill anyways. Fish on!